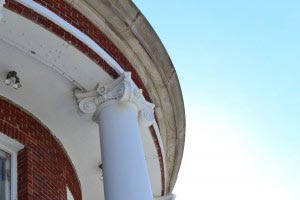 Van Alstyne is home to many 100+ year old buildings with original architectural details.
Downtown Van Alstyne
Today, residents and tourists enjoy shopping, dining and working in offices in our vibrant historic downtown district. Those living in a restored home or loft apartment downtown can walk to banking, grocery shopping, restaurants, medical care and entertainment.
Our historic downtown is also the location of events such as the Fall der All festival, Halloween trick-or-treating at downtown merchants, the Railcar Farmer's Market, concerts in the park, the Christmas parade and much more.

Van Alstyne Depot
The city of Van Alstyne, located on the southern border of Grayson County, was founded in 1873 when the railroads began their rapid expansion and formation of new settlements into the rich blacklands of North Texas. The railroads bypassed the little town of Mantua that had been settled in 1854 three miles to the Southwest. Most of Mantua's citizens relocated to Van Alstyne, bringing with them their businesses and churches.
The depot was originally located on North Main. This rail line carries freight today.
Above: One of the murals added to downtown Van Alstyne in 2019 painted by the artist Calina Mishay Johnson, known as Street Art by Cal. It is located next to the Van Alstyne Post Office, 130 E Jefferson St, Van Alstyne, TX 75495.
photo credit: Tiffany Chartier, Van Alstyne Chamber of Commerce
Home is Where the Train Stops
Van Alstyne was named in honor of Maria Van Alstyne, widow of William Ashley Van Alstyne of Houston, a major stockholder of the Houston and Texas Central Railway.
The first half of the 20th century brought an economic boost to Van Alstyne as the Sherman-Dallas Interuban traveled through the town. The last Interurban traveled through Van Alstyne on December 31, 1948, bringing an end to forty years of affordable, dependable transportation.